Sponsor a Hamper - Registration for 2021 Starting Soon!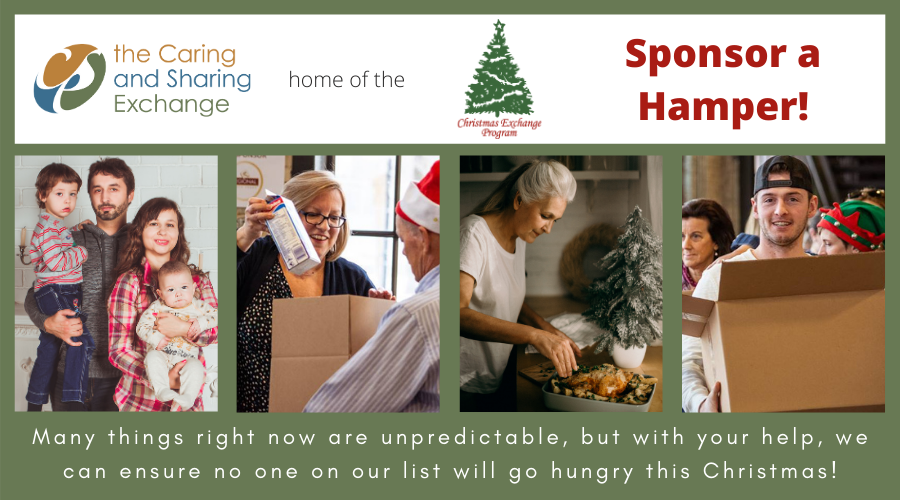 DISCLAIMER: Registration to become a 2021 Sponsor-a-Hamper participant will be opening soon!
Please consider making a monetary contribution today so that we can ensure every Ottawa family in need is provided for this Christmas.
____________________________________________________________________________
What is the Caring and Sharing Exchange's Sponsor-a-Hamper program?
Our Sponsor-a-Hamper program matches you with a family in need in the community to provide food assistance for the holidays. Through this program, you discuss with the family what they need and put together a food hamper with all the fixings for a festive Christmas meal! Sponsors also arrange a date and time to deliver the hamper to the family.
To find out if the Sponsor-a-Hamper program is right for you, please read our guidelines for sponsors. You can also check out the program's FAQ and important December dates below!
How many hampers can I sponsor?
There is no limit on the number of hampers you can request to sponsor. We recommend you spend between $85 and $150 on items for a single hamper (depending on family size). Using that as a guideline, feel free to request sponsoring as many hampers as your budget allows!
How will my sponsored families get their hampers?
Sponsors arrange a date and time with families to deliver hampers. We recommend getting in touch as early as possible with your sponsored families to arrange a time in the days leading up to Christmas. More details on important dates can be found in the Sponsor-a-Hamper Guidelines.
How can I deliver the hamper safely, follow Covid-19 safety protocols?
In light of the ongoing COVID-19 pandemic, please consider arranging a porch drop when delivering hamper(s). Please also wear a face mask when delivering hamper(s) and wash your hands/use hand sanitizer before and after your delivery.
What kind of food should I put in the hamper?
Hampers should contain all the fixings for a festive holiday meal! For details on what a recommended hamper should include, please refer to the Sponsor-a-Hamper Guidelines.
Can I make a home-cooked meal or dessert for the hamper?
No. Unfortunately due to liability restrictions, we ask that no edible homemade goods are included in the hampers.
What about grandma's special homemade preserves... can I include those in the hamper?
Although grandma's homemade preserves sound delicious, we ask that you do not include any edible homemade goods due to liability reasons.
If my sponsored family has a child, can I buy toys for that child?
We ask that sponsors place an emphasis on food assistance for sponsored families as many families receive gift assistance elsewhere. However, small gifts for the family may be included if you wish to add a little something extra.

If you find that you have a large leftover budget after assembling your hamper(s), please consider sponsoring another family's holiday meal.
If the family has a dog, can I add dog food to the hamper?
While we recommend ensuring you can provide enough food for the human family members first, you are welcome to extend food assistance to animal family members as well.
How much should I spend on a hamper?
Depending on the number of individuals you will be assisting with a hamper, the approximate value of your hamper should be between $85 and $150. Hampers for larger families will likely cost more, while a hamper for an individual or a couple should cost less.
If your budget is well over $150 for a single hamper, please consider sponsoring another family's holiday meal.
When is the deadline to register for Sponsor-a-Hamper?
We will be matching new sponsors with families until Friday, December 18th 2019.
What if I can't get in touch with my sponsored family?
We recommend that sponsors make as many attempts as possible to get in touch with a family to arrange the delivery of a hamper, including trying to reach the family at various times of day.
If after several attempts, you are not able to get in touch with the sponsored family, please contact the Caring and Sharing Exchange at This email address is being protected from spambots. You need JavaScript enabled to view it..